With carbon fiber technology, the Jazzy Carbon Power Wheelchair becomes your greatest travel companion.
You know Jazzy for its industry-leading performance and quality. Now let's talk about portability. Jazzy Carbon uses ultralight but exceptionally strong carbon fiber technology for its frame and a lightweight, reliable lithium-ion battery. Travelers keep their Jazzy Carbon charged and standing by for spontaneous jet-setting adventures. They know it breezes through airport security, easily stows on the plane and gives them the mobility support they need to make the most of their travels. Weighing in at a stunning 43.6 pounds, Jazzy Carbon still provides top speeds up to 5.9 km/h with a weight capacity of 300 pounds.  
When does a folding power chair also put comfort first?
Jazzy Carbon folds down in just a few quick motions, which makes it easier to transport in cars, planes and trains. But don't let portability fool you. Jazzy Carbon has tall, terrain-dominating wheels and a front-end suspension system, plus a comfy seat cushion to sustain you through everything your busy day throws at you. Maybe you're taking a weekend trip to visit the grandkids, and they've got your Saturday booked with stops at all their favorite places. Or maybe you and your pals are taking a once-in-a-lifetime trip to an all-inclusive resort, and you don't want to miss a single moment of it. Jazzy Carbon gives you mobility and control to do it all.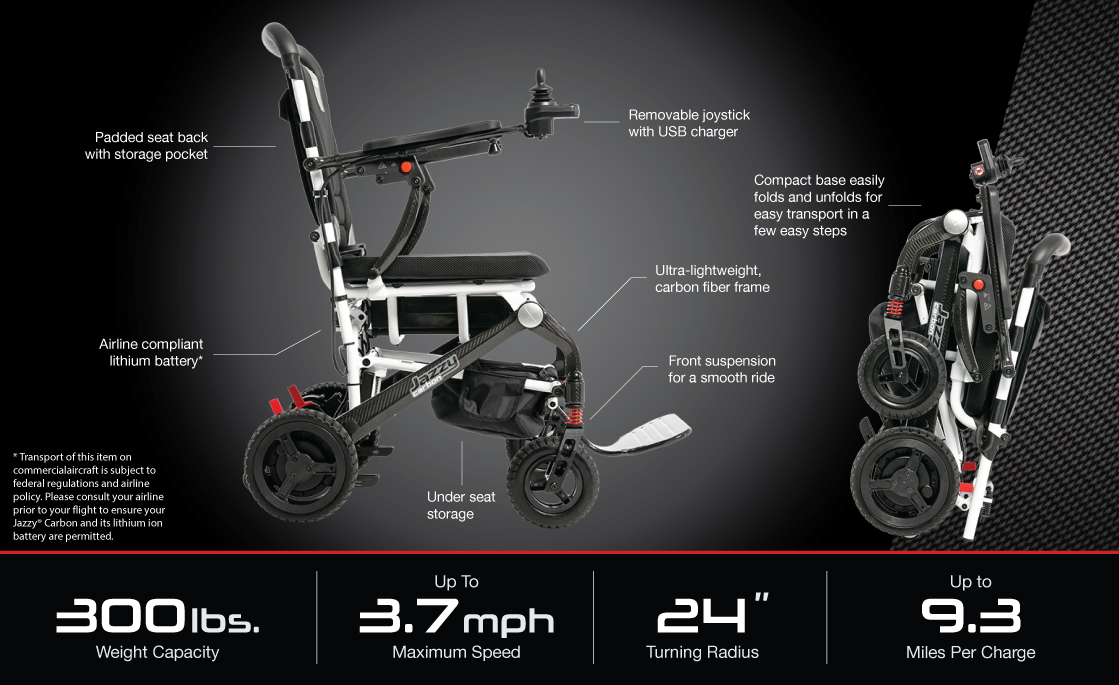 Jazzy Carbon Features:
Black product images for display purposes, available in Canada in White Colour only.
300 lb. weight capacity
Removable joystick for transporting with built in USB charger
Airline compliant lithium battery**
Front suspension for a smooth ride
Ultra-lightweight, carbon fiber frame specifically designed for traveling
Compact base easily folds and unfolds for easy transport in a few easy steps
Padded seat back with storage pocket and soft, removable seat cushion for all-day comfort
Free-wheel levers to easily disengage the brake allowing this lightweight power chair to be pushed like a manual chair
Included under-seat storage and adjustable lap belt
When folded 28.3"x12.2"x24"